Cat Cat Cat Cat Cats Cats Cats Angora Turkish Angoras Turkish Angora Cats Ankara Kedisi Pet Pets
TURKISH ANGORA CATS "PINARDAN"
Click here for the German Version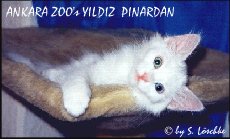 The Turkish Angora is still a secret tip in the wide cat world
The cat, as a pet is more popular today, than it ever was. Cats have always been a part of my life. Only in the rare, relatively unknown breed Turkish Angora I found everything what the word "cat" means to me personally: a sensitive, intelligent, sociable "friend", who's elegance and loving charm you can't evade; her silky semilong coat invites one to pad her without having to care about it a lot; the robust health and the original instincts as one appreciates with semiwild cats living on a farm; the mystical look from her almond-shaped eyes telling one more than words could ever say....
As the native country Turkey builds a bridge between the Orient and Europe, the Turkish Angora also builds such a bridge; in appearance and character she's something in between the extremes of the cat world with a slight tendency to the slender oriental breeds. It was a very lucky coincidence for me to become aquainted with this fascinating natural breed! A big moment that had a permanent strong influence on our family life...


First Version 6. Feb. 1998, last Update: 02. February 2001